Laura from
Kindergarten Kraziness
has graciously given me the Blog On Fire Award! I am so honored to be recognized!!! I just love all of you out there is Blogland!
So, how this works is I am supposed tell 7 things about myself and then give the award to 7 other blogs. So, here it goes!
1. I live on a farm. We raise cattle.
2. We are in the middle of a kitchen remodel! We are doing this ourselves and it will take all winter!!
3. I LOVE to camp with my family. We are always sad when it is time to put the camper away!
4. I also have a class blog, Mrs. Bella's Kindergarten Kids. I share many of the same acitivities and pictures but it is geared toward my students' parents.
5. My husband's mother was a nurse at the same hospital where I was born. She was currently pregnant with my future husband as she weighed and measured me right after I was born! AMAZING!
6. My family also loves to snow mobile!
7. I am the director of our Sunday School program and church. I will occassionally post about our activities!
I nomiate the following blogs!

Kristen's Kindergarten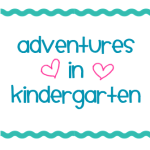 KinderPond